Electric carmakers have finally broken into the muscle car market with the August 2022 debut of Dodge's Charger Daytona SRT all-electric concept car. With Dodge's classic gas-powered muscle cars, the Charger and Challenger, on their way out after 2023, the company gambled on its ability to capture the hearts of muscle car enthusiasts with a Daytona EV.
Dubbing the Daytona electric SRT the "future of electrified muscle," Dodge nailed the tagline game. However, shifting the hearts and minds of hardcore muscle car fans into high-gear enthusiasm about the new car might prove a challenge.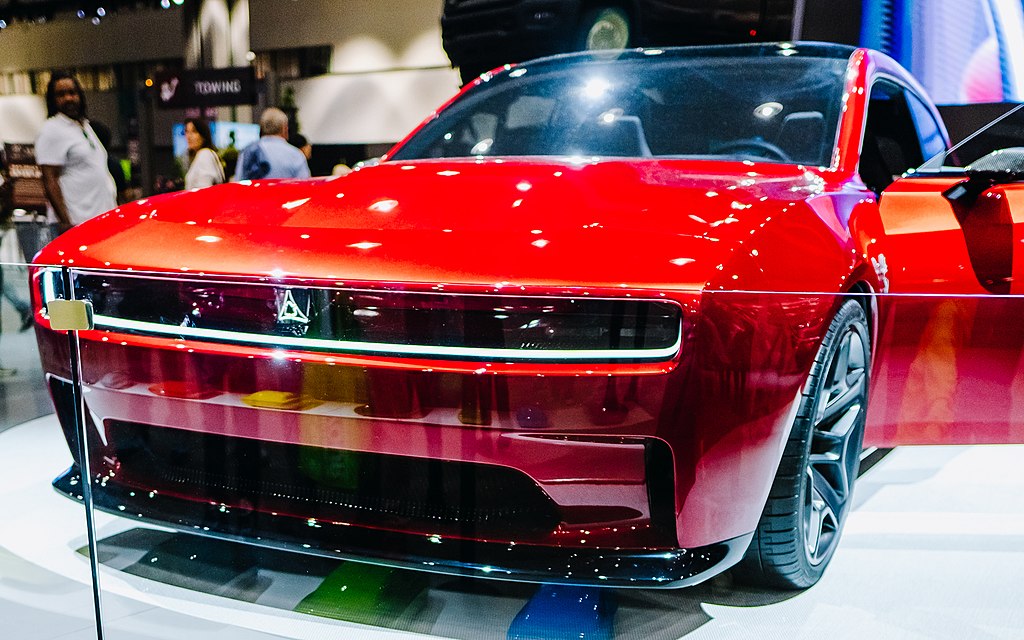 Image via Wikimedia Commons
But the performance stats the electric SRT brings could move the needle toward EV cars even among this traditional demographic. With a temporary horsepower boost button, a top speed faster than the brand's flagship Hellcat, and a multi-speed transmission, the new electric SRT could do the trick.
And the cherry on top? The electric Daytona even mimics the throaty growl of the gas-powered version's exhaust.
What Do Muscle Car Buyers Want?
According to a Motor and Wheels survey, 80 percent of muscle car buyers are male, with a median age of 51. A CarTalk/BestRide survey showed that they  also trend conservative, unlike the typical EV buyer.
However, as a TrueCar.com survey revealed, male buyers go for "big and brawny" cars with "awesome acceleration" and "brute power." It's no wonder that muscle cars and pickups top male buyers' "I want" lists.
The Daytona SRT has all of those qualities in spades – and more. Dodge is betting on those qualities to convince its target customers to go electric.
Delivering the Muscle
And did Dodge ever deliver the goods in the electric SRT? With its 800-volt electrical architecture, this architecture doubles the voltage of most EVs, as Car and Driver's Sasha Richie reports. It charges faster, cools the motors more efficiently, and lightens the car's wiring.
The Daytona SRT features an all-wheel drive, unlike its gas-powered predecessor. It's no Jeep, but can handle more rugged roads than the rear-wheel-drive gas version.
Like any respectable muscle car, the electric SRT is quick off the block – from 0 to 60 in only 3.5 seconds. The high-end model can push 670 horsepower for instant speed with its power burst option, as Auto Evolution's Cristian Gnaticov reports.
With its six-piston brakes, it can stop on a dime. Its multi-speed transmission, Richie reports, allows drivers to feel the car's shift points.
To enhance the car's aerodynamic performance, engineers took a page from the first Charger Daytona and added a streamlined front opening, the R-Wing. With four air intakes on the SRT's front and back ends, it hugs the road like a champ.
Even though it doesn't have a true exhaust, Dodge engineers figured out a way to amplify the EV muscle car's low hum into 126 decibels of pure muscle car sound. Sleek inside and out, the electric Daytona should win over the company bean counters' target market and add a few extra segments.
The company hopes to have a production version of the electric Daytona SRT Fratzonic by 2024. If the car's sound and other features win over a generous share of the muscle car market, other EV carmakers might follow suit.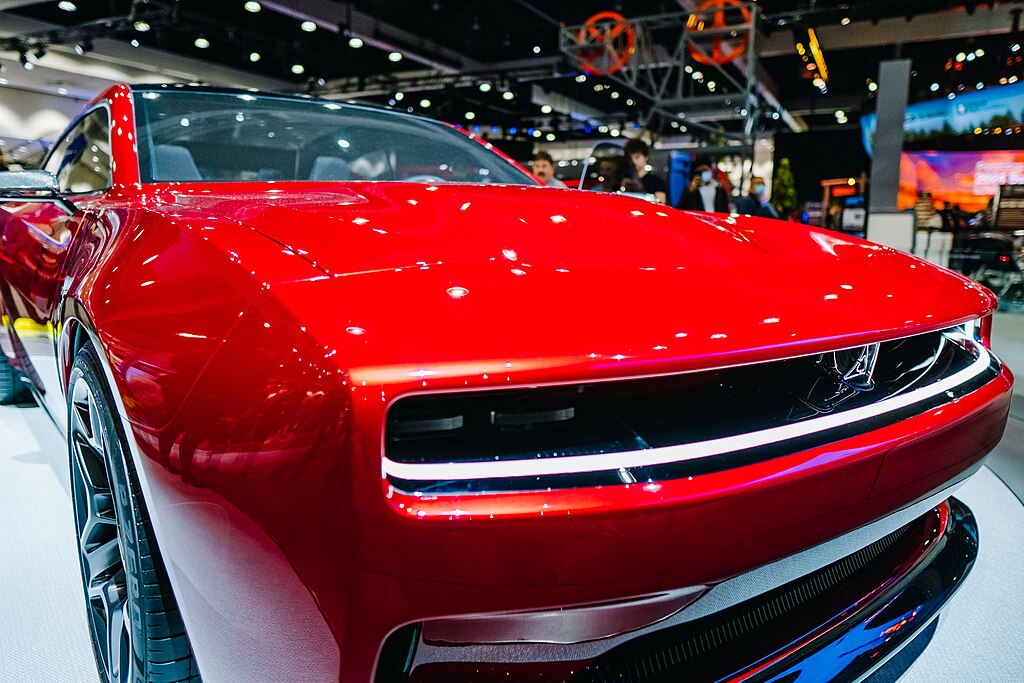 Where Is Early Buyer Sentiment Trending?
While the reviews for the SRT's sleek appearance, high-tech features, and performance stats look promising, buyer sentiment is mixed on the exhaust sound. Motor 1's Christopher Smith, for instance, characterizes the Daytona's roar as "a big bass cannon pumping out artificial V8 noise." Although the decibel level is as loud as the Hellcat's, Smith says, the sound could use "some tweaks," he concluded.
Ouch.
Jalopnik's Steve DaSilva agreed, calling the sound "missed opportunities…all mids and highs, no chest-shaking bass, and most importantly, nothing new or unique." He added, "It sounded like it couldn't decide whether to replicate a Hemi or go full-on future and decided to half-ass both."
The comments on DaSilva's article – most from the car's target market – echoed the review's sentiments. One potential buyer stated, "I just don't think a noise coming out of a speaker will elicit the same response as an actual mechanical machine exploding gasoline and moving pistons," adding that simulating the exhaust sound "would cheapen the whole experience."
Another commenter took an even more brutal tack. He called it "a trombone" and said, "If I get one of these idiotic systems, it would be the first thing I'd pull off the car (or pull the fuse, at least)."
As for DaSilva, silence would be the best option. However, complete silence in an EV presents safety issues for pedestrians.
For that reason, the National Highway Traffic Safety Administration (NHTSA) enacted a rule that EVs manufactured in 2020 and following years must produce a "pedestrian warning sound" and is threatening to add a requirement that older EVs and hybrids must retrofit such a warning.
Some EV noise is necessary to meet that regulatory requirement. But clearly, it was back to the drawing board for Dodge to retool its concept car's muscle car sound.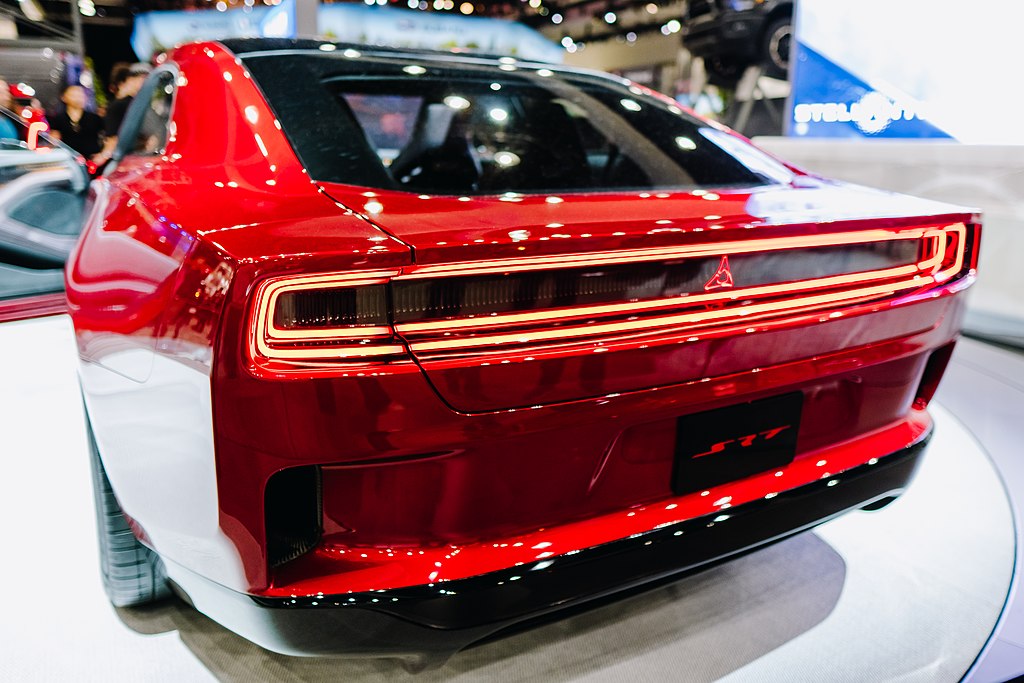 Rebooting the Daytona's Signature Growl
To address the "all mids and highs" complaints from loyal Daytona fans, Dodge retooled the Daytona EV's exhaust sound, as Inside Evs' Iulian Dnistran reports. By late February 2023, the tenor trombone-like groan took on a basso profundo persona – a "more aggressive" sound, in Dnistran's words.
The rebooted Daytona exhaust sound now delivers the "chest-shaking bass" that muscle car enthusiasts crave – and even offers a silent-ish option for people who feel like DaSilva.
How Will the Daytona EV's Reception Impact the EV Charging Industry?
As the TrueCar survey cited earlier, muscle car and pickup truck enthusiasts number among the slowest market segments to adopt EVs. If EV carmakers can create electric vehicles that ignite their passion for power and speed, they've captured a key part of the US vehicle market.
A June 2023 Pew Research survey revealed that less than 40 percent of US car buyers "are very or somewhat likely to seriously consider an electric vehicle" for their next car or truck purchase. The 60-plus percent of prospective car buyers not yet in the EV fold, as one might expect, fall within the muscle car and pickup target market – conservative, 50-plus, and rural.
As Mopar Insiders' Robert S. Miller points out, when carmakers deliver outside-the-box solutions to the challenge of adding sound to EV powertrains, they'll be more likely to appeal to that segment – drivers "who enjoy the sound of traditional internal combustion engines." Preserving their "emotional connection" to their car through sound while delivering solid performance can eliminate at least some of their objections to buying an EV.
Chevy's 2024 Silverado EV pickup has all the bells and whistles to move the needle in that market segment. If Dodge can do the same with its electric Daytona, it could give rise to a sea change in the EV industry. And, because these new EV owners will need charging stations to fuel their "electrified muscle," this car's success could drive the EV charging industry to new heights.
Discover How Your EV Charging Company Can Encourage EV Adoption
Part of any marketing strategy your EV charging company needs to be enlarging the pool of customers you want to draw from. Encouraging EV adoption by promoting features of new EVs that could appeal to new market segments can do precisely that.
At the EV Charging Summit & Expo, you can learn more about marketing strategies that can bring more customers to your door than ever before. There, you'll also learn all about the latest EV charging technologies, discover innovative new vehicles, and find new ways to fund your business.
Even better, you'll hear from all the top minds in the EV charging infrastructure industry – and even get a chance to meet with them one-on-one or in groups. Don't miss your opportunity to reserve your place at the table. Register for the next event today!